Choosing the Right Backpack for Your Child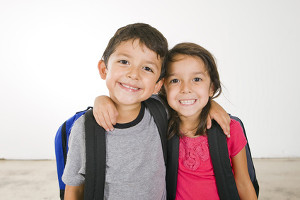 One of the most exciting things about going back to school is the back-to-school shopping trip. Kids love to pick out their own lunch boxes and backpacks featuring their favorite colors, characters or designs in preparation for the new school year. Parents should, however, provide their children with guidance when it comes to choosing a backpack.
Let them choose the style, but you approve thefeatures and instruct your child on how to pack it properly. Choosing an inappropriate size or one with the wrong features could result in back pain and injuries. Here is a list of guidelines for backpack safety:
Choose the right size. A backpack should never be wider or longer than your child's torso. It should not hang more than 4 inches below the waistline (anything more causes unwanted postural stress).
Make sure the straps are both wide and padded

 

to avoid pain in the shoulders and neck. The straps should also be adjustable so that the pack can be properly positioned to the center of the child's back.
Look for a pack with a padded back. This will not only be more comfortable, but will also give your child protection from sharp-edged school supplies stored inside the pack.
Choose a backpack with several compartments. Distribute contents evenly, with the heaviest items closest to the body and sharp or pointy objects in outside pockets.
Children should never carry more than 10% of their body weight in their backpacks. For example, a 50-lb. child shouldn't carry more than 5 pounds.
Start the school year off right with a chiropractic check-up.

 

Like the tires on your car, it is important to keep your spine aligned to promote even wear and tear. This is just as important for kids as it is for adults! The chiropractor will assess your child's posture and check for proper spinal alignment. Any misalignments or other problems that are detected can be corrected to keep your child healthy and pain-free.
Dr. Sean Kim, D.C., chiropractors at Pure Life Wellness, invite you to bring in your child for a check-up! Call us at (619) 501-7873 to schedule an appointment.